Benchtops, Sinks and Fixtures

Hamilton Australia can custom fabricate a range of work surfaces suitable for laboratories, darkrooms, classrooms and workplaces. These can be made from a variety of materials designed to offer high chemical resistance and provide a durable surface.
Sinks, splashbacks and fittings can be fully incorporated with the bench.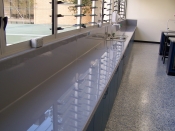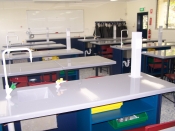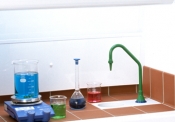 Chemical Sinks and Plumbing Traps



In addition to the custom made Hamilton Australia sinks and traps we have also been using and distributing the Vulcathene range of Laboratory/Chemical sinks and traps for many years.
Vulcathene have been the innovative leader in the chemical waste drainage industry for over forty years and was the first product to receive Agreement Board Certification for chemical waste drainage.

Vulcathene is synonymous with chemical waste drainage and is specified world- wide.

The Vulcathene plumbing range has been designed for the safe conveyance of low pressure chemical effluents making it an ideal choice for University, School, Hospital and Industrial laboratory installations.
For details of Vulcathene Chemical Sinks click here
For details of Vulcathene Dilution Recovery Traps and Anti-Siphon Bottles click here
Hamilton Australia can also supply a comphrensive range of gas and water taps, sinks, and accessories for your laboratory.
For more details on these products contact the Hamilton Australia team.....