Exhibitions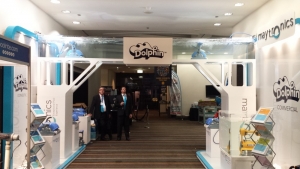 The largest ever SPLASH! Pool & Spa Trade Show was held on the Gold Coast on 16 – 17th July.

A wide range of industry professionals attended, including landscapers, retailers and pool builders, service technicians, wholesalers, distributors, architects, sports and aquatic centres, government, construction managers and engineers.
Hamilton Australia assisted its long term client, Maytronics www.maytronics.com.au in the construction of its exciting 2 stands at SPLASH to showcase its range of automatic pool cleaners.

Design
The Maytronics show display was designed in full using 3D parametric design software (SolidWorks) that allowed Maytroncis and Hamilton explore the design feasibility of different concepts as well as allowing "virtual walkthroughs" of the whole display. By designing everything in Solidworks 3D we had the opportunity to identify any manufacturing or assembly issues beforehand, enabling us to get the design right for manufacturing the first time round. The design also incorporated a somewhat modular capacity to cater for future show stands and sizing.
Acrylic Tanks
Two acrylic tanks were manufactured using 25mm Plexiglass. Our craftsmanship was visible in the absolute clarity and resultant strength of the glue joints. Each tank weighed 160kg and contained 640 litres (640kg) of water.
Frame work
The tanks were supported by steel frame work which were cladded with foam PVC panels and Signbond allowing the Maytronics and product artwork to be professionally presented. The structure was engineered for optimal safety as thousands would be walking underneath the temporary structure at the show.
Installation
The full installation and deconstruction of the display assembly were managed by Hamilton staff, freeing the client up to prepare for other aspects of the show.
Lighting
By incorporating extra LED spotlights on top of the tanks a very effective reflection was achieved on the bottom panels of the tanks, and the action of the robot pool cleaners creating a wonderful interplay
between the lights and water.
Examples of our work