Parts, Repairs and Maintenance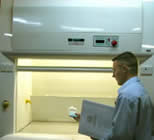 Hamilton Australia has almost 70 year's experience in plastic fabrication and can repair and custom fabricate a huge range of components and equipment.

We carry in stock all the common forms of thermo plastic (eg PVC, HDPE, PP, ABS, Polycarb, Perspex etc) in a variety of colours and sizes.

Our tradespeople come from a variety of backgrounds – plastic, electrical, air-conditioning, sheet metal and plumbing.

We can supply all the consumables for Scrubbers, Ventilation Hoods and Fume Cupboards such as tellerettes, mist eliminator pads, activated carbon filters and HEPA filters.

Scrubber Packing Media – Hamilton Australia can supply packing media for most types of fume scrubbers, some of the most popular being:

We recently expanded our Service and Repair department and have invested heavily in training and equipment to ensure our team can diagnose, repair and service most equipment.

For more details on thess services contact the Hamilton Australia team...