Tanks & Vessels
Hamilton Australia has extensive experience in the fabrication of Industrial tanks.
We can supply standard roto moulded tanks often used in households etc to hold water, however we specialise in serious tanks - purpose built, custom fabricated, solid tanks, designed for long life and serious chemicals.
These solid plastic fabricated tanks are manufactured using the latest extrusion and butt welding methods and the latest "RITA" software to match DVS2205 standards.
Advantages of Plastic Tanks include:
• Chemical Resistance
• Corrosion & Rust Resistance
• High strength
• Light Weight
• Good impact resistance
• Hygienic
• Versatility of Shape
Common Applications include:
• Chemical Storage Tanks & Bunds
• Lining of Existing Tanks
• Electroplating Tanks
• Powder Coating Preparation tanks
• Tanks for Water Treatment & Waste
Dual Laminate Tanks

Hamilton Australia is equipped to manufacture in a wide range of high chemical resaistant, thermoplastic inner shell GRP Vessels. They are custom built to suit the requirements of your application. These Dual Laminate tanks can be manufactured in Polypropylene (PP), Unplasticised polyvinyl chloride(uPVC), Polyvinylidene Fluroride (PVDF) and Ethylene
Chlor-Trifuroethylene Co-polymer (ECTFE) to handle extreme operation conditions and outstanding strength.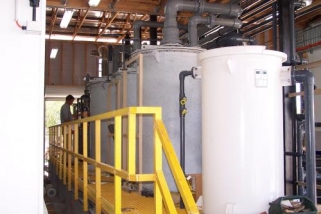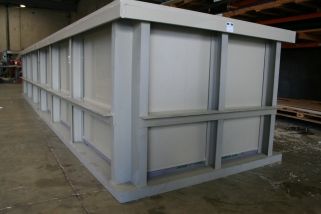 For more details on these products contact the Hamilton Australia team...