Annual Servicing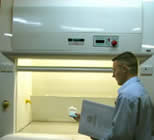 Hamilton Australia is one of the largest manufacturers of fume cupboards in the country and for decades we have been fabricating fume control equipment.

We believe it's important we help our customer reduce the dangers of airborne contaminants in work places and class rooms. To help ensure facilities are safe, responsible operators are having their fume extraction and control equipment regularly tested to ensure they comply with the latest requirements and that they are continuing to operate efficiently.

Responsible workplaces ensure they are compliant with Workplace Health and Safety and Environmental Protection legislation and strive to meet the latest Australian Standards.

Under our NATA (National Association of Testing Authorities, Australia) accreditation Hamilton Australia offer a comprehensive test and certification service on fume cupboards and control equipment to help you ensure your systems meet Australian Standard AS/NZS 2243.8, which sets out the safety requirements, acceptable extractions methods and what is an acceptable concentration level on contaminants.

Fume Cupboards are required to be certified at least Annually and our staff have experience with most brands of equipment.

Scrubbers, Ventilation Hoods and Fume Cupboards really should be serviced on a regular basis, including replacing any consumables such as tellerettes, mist eliminator pads, activated carbon filters and HEPA filters.

We recently expanded our service department and have invested heavily in training and equipment to ensure our team can diagnose, repair and service most equipment. Within our team we have licensed staff from the plumbing, electrical and air conditioning industries who have built extensive experience in fume control.

In addition to testing equipment, we design and manufacture new systems and repair existing ones.

We also have extensive experience in plastic fabrication (e.g. screens, chemical sinks and tanks, pottery kilns, signage, laboratory equipment etc).


For more details on thess services contact the Hamilton Australia team...