Rn Series Centrifugal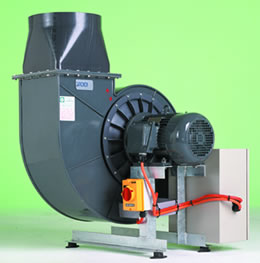 Hamilton RN Series Centrifugal Fans are designed for supply or extraction of large volumes of air, or corrosive gases over long distances.
They may be used in Hamilton Fume Cupboards, Exhaust hoods and any general industry application. The standard models are fabricated from rigid PVC sheet, and may be connected to either circular or square ducting.
These fans are available in two basic types:
Direct Drive - the motor directly drives rotor
Belt Drive - rotor is driven by a pulley system from the motor
All fan impellers are carefully balanced for smooth running. The drive mechanism and shaft are isolated from the gas flow for safety and protection from corrosion.
Fan Configuration
The direction of rotation is determined from the drive side of the fan, which is located below the inlet. If the fan is wall or ceiling suspended, the direction of rotation and discharge is determined when the fan base if resting on the floor.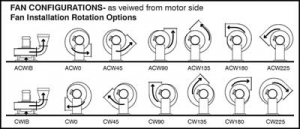 Direct Fan Drives
Body - Standard construction offers a choice of the following materials:
Polypropylene - for increased chemical and heat resistance.
PVDF - for excellent chemical and heat resistance.
Rotor - Standard Brinkman rotors are one piece injection moulded polypropylene with forward curved aerofoil blades.
Motor - Standard motors are totally enclosed and fan cooled, They are single phase for small models and three-phase for larger models.
Custom motors are available as:
FLAME-PROOF - for hazardous environments.
MULTI-SPEED
Where 3 phase motors are used, Hamilton can supply a VSD with Opti drive filter. The VSD plus filter allows optimum control of the fan speed with minimal interference of other facilities.
Base - The base is fabricated from galvanised steel. This is a standard feature of all models.
Pulleys - Standard pulleys are taper lock interchangeable units for 'V'belt drive. Custom pulleys are available with adjustable pitches.
Shaft - Standard drive shafts are available in bright chromed steel. Custom drive shafts are available in stainless steel on request.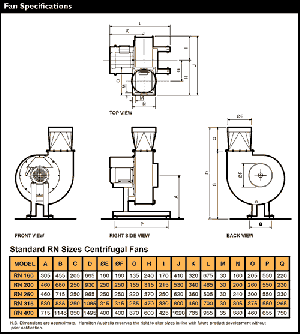 Weather-proof Cover
A fabricated rigid PVC motor cover for external use is available as a custom accessory.
Hamilton attenuates are available where required. They conform to the Australian Standard AS/NZS 2243.8 with a maximum pressure drop of 30Pa.