Hamilton Australia manufactures its own brands of fully ducted fume cupboards to the latest Australian Standard (AS:/NZS 2243.8:2014) and is also a distributor of the globally regarded "ESCO" ductless fume cupboard range.

Hamilton fume cupboards are designed to provide a safe working environment and are backed by an extensive warranty and team of installers and service technicians.

We offer clients a variety of options in fume cupboard layout, manufacturing material, work surfaces, fittings, exhaust/venting options and fans and air scrubbing products.

You can chose from numerous types of our existing models, or we can work with you, your builder, architect or engineer to design and manufacture a special custom designed cupboard to suit your particular needs.
These Australian made fume cupboards offer the flexibility of infinitely variable sizes, multiple choices of work surface and base configurations and fittout options.
The H series was originally developed for the educational market and due to the versatility of the product they can perform effectively in many situations.
Read more...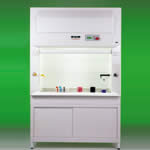 The Hamilton "Modulaire" fume cupboard was developed for heavy industrial and university use, where high chemical resistance and longevity are required. The design of the "Modulaire" range of cupboards is the result of over 50 year's experience Hamilton Australia has in the laboratory equipment industry.

They are manufactured here in Brisbane using Pyrochem fire retardant and chemical resistant Glass Reinforced Plastic making them suitable for use in a variety of applications, including the use of Perchloric and Hydrofluoric acids.

Hamilton Australia is a distributor for the Esco range of ductless/re-circulating fume cupboards. These cupboards are ideal for situations where the building does not suit vented/ducted air.
They are manufactured from a high quality, extremely durable, all-metal carcass which creates an air-tight outer shell for the best possible toxic fume containment possible. They are fitted with specially designed chemical adsorption, activated carbon filters.
They come in a range of sizes, suitable for many laboratory configurations.
Read more...